It's that time of year where you're too old to go trick-or-treating and you won't be spending all night donning costumes. However, you could score more than a handful of free treats this Halloween.
The party might be over, but your night doesn't need to be. Busting out a new set of tricks in the bedroom can be a real treat for the both of you. So go ahead and get creative this Hallow Eve with the best sex positions for this spooky holiday.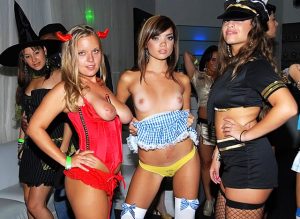 THE GHOST RIDER
Jack-o-lanterns act as guides for lost spirits in the night that is, until your partner assumes the role for the evening. In this position, find a comfortable sturdy chair and get your partner to sit down with his legs slightly spread. Face him and straddle his hips, keeping your knees open towards his chest and bent. Let him grip your bum and thighs while you clutch the back of the chair and move up and down in a rowing motion.
SPINE CHILLING COWGIRL
Bewitch him with your killer skills and show him who is boss. Get your partner to lie back, prop his head and shoulders with a pillow, and have him spread his legs slightly apart. Have your back to him as you lower yourself onto his penis. Put your feet between his legs on the floor or bed as you use your hands and feet to move your body up and down.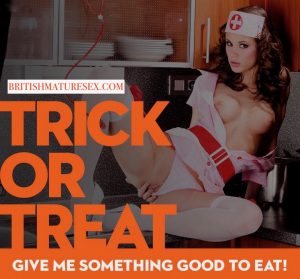 MIDNIGHT WARLOCK
Don't be afraid of the dark …embrace it! Lie back on your bed (or any other soft surface) with a pillow underneath your head. Bring your knees to your chest and cross your legs at your ankles. Your partner kneels in front of you with his legs touching as he leans in and pulls your hips onto his angled lap. Remember to keep your thighs together as you gently press your feet against his chest.
CRYPT KILLER
Squirming, moaning and trembling don't only have to happen in scary films. You and your partner undress each other, then rub Durex Play Saucy Strawberry gel all over. After you prepare your body for takeover, bend over the side of the bed so your stomach and breasts are against the mattress, while your feet are on the floor. Spread your legs comfortably, as your partner enters you from behind.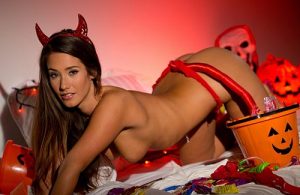 THE BLOOD CURDLING GRASP
Electrify his senses, get his blood boiling and simmer him up with this position. Stand with your back to your partner and bend over slowly as you place your palms on the floor. Bend your knees to adjust if needed, as he enters you from behind, wrapping one of his arms around your waist. To double your naughty delight, grab some pillows to put underneath your hands for extra support and comfort. To get laid tonight check out BRITISH SEX FINDER.